Dan Amor was born to ride and followed in his Father's footsteps
The Board of Directors of the Canadian Motorcycle Hall of Fame is pleased to announce the second Members of the Class of 2018.  Daniel Amor will be honoured at the 13th Annual Induction Banquet and Reunion which takes place November 17th, 2018 at the Delt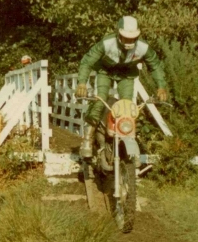 a Hotels Burnaby Conference Centre in Burnaby B. C.
Daniel John Amor was an avid motorcycle competitor. He raced in many disciplines including ISDE, Dirt Track, Enduro, Motocross and Hare Scrambles. He was a mentor for the younger rider, especially the kids that hung around the family motorcycle shop, Amor Honda in Surrey.
Dan was born to ride and followed in his father's footsteps. Vern Amor was inducted into the Canadian Motorcycle Hall of Fame in 2010 and passed away in 2012. Dan was raised in the world of motorcycles. He was taught sportsmanship and mechanics and was always at the shop shadowing his father and learning the bikes. He worked as the parts department manager when he wasn't travelling to races. In the late 1970's he started his own businesses, D. J. Salvage and Dan's Cycle & Recycle.
In the 1960's, Dan started competing at Motocross and Hare Scrambles in Victoria and eventually raced all over British Columbia, Alberta and Washington. He was one of the top racers in the 1970's - dirt tracked at Hannigan Speedway and Monroe in Washington as well as the Pacific Coliseum in Vancouver and Castle Rock, Washington. In the ISDT (E) Dan earned a Bronze Medal at Massachusetts in 1973; broke his wrist in Italy in 1974 and came up with another bronze at the Isle of Man in 1975. In 1976, he claimed a Gold Medal in Austria and competed at Czechoslovakia in 1977. A trip to Sweden in 1978 earned a Silver Medal as well as Germany in 1979.
Dan was again chosen to ride in Wales for Canada's ISDE team in 1983 when he was diagnosed with cancer and passed away six months later. 
The Chair of the Canadian Motorcycle Hall of Fame Board and all the Directors, are pleased and honoured to include Dan Amor in the Class of 2018.