Honda Canada to Receive The Bar & Hedy Hodgson Award at the Fourteenth Annual Canadian Motorcycle Hall of Fame Induction Banquet and Reunion
Toronto ON – October 25, 2019 – The Canadian Motorcycle Hall of Fame is very pleased to announce Honda Canada will be honoured at the Canadian Motorcycle Hall of Fame Induction Banquet and Reunion.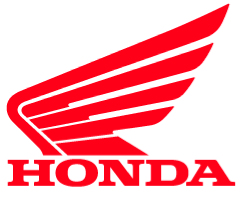 It gives me great pleasure to see Honda Canada receive the Bar & Hedy Hodgson Award, says Paul Germain, Chairman. Honda has played a huge roll in our motorcycling history and been a supporter in many ways. All the directors, contributors and volunteers of the CMHoF as well as myself, join together in congratulating Honda Canada.
Honda's Canadian heritage began with motorcycles. When Honda Canada was founded in 1969, motorcycles were among the first products sold. But it goes back even further than that.
In 2019, Honda is celebrating 50 years in Canada, we could not have flourished without the support from motorcycle customers and enthusiasts who have ridden and currently ride our fantastic lineup as well as dealers and distributors like Trev Deeley of Vancouver, BC and the Northrup Family in Moncton, NB who were importing and selling Honda motorcycles in the late 1950's and early 1960's, before the company established its half-century foothold.
Today, Honda motorcycles are among the most ridden and best-selling in Canada and we continue to promote them to future generations with programs like Honda Junior Red Rider where 30,000 kids aged 6 to 12 have been experiencing the fun two wheels can provide.
In our 50 years in Canada, Honda has made a commitment to investing in this country by giving back and building communities.
Purchase tickets for the 14th Canadian Motorcycle Hall of Fame Induction Banquet and Reunion at www.canmoto.ca.
---
HONDA CANADA RECEVRA LE PRIX BAR & HEDY HODGSON AU QUATORZIÈME BANQUET ET RÉUNION DU TEMPLE DE LA RENOMMÉE DE LA MOTO DU CANADA
Toronto ON – septembre 2019 – Le Temple de la Renommée de la Moto du Canada est très heureux d'annoncer qu'HONDA CANADA sera honoré lors de la réunion et du banquet annuel du Temple de la renommée de la moto au Canada.
Je suis très heureux de voir Honda Canada recevoir le prix Bar & Hedy Hodgson, a déclaré Paul Germain, le président du conseil. Honda a joué un rôle important dans notre histoire de la moto et a été un soutien à bien des égards. Tous les administrateurs, contributeurs et bénévoles du CMHoF, ainsi que moi-même, félicitons Honda Canada.
L'héritage canadien de Honda a commencé avec les motos. Lors de la fondation de Honda Canada en 1969, les motos figuraient parmi les premiers produits vendus. Mais cela va encore plus loin que cela.
En 2019, Honda fête ses 50 ans au Canada. « Nous n'aurions pas pu nous épanouir sans le soutien des clients et des passionnés de motos qui utilisent actuellement notre fantastique gamme ainsi que des concessionnaires et distributeurs comme Trev Deeley, de Vancouver, en Colombie-Britannique, et de la famille Northrup à Moncton, au Nouveau-Brunswick, qui importaient et vendaient des motos Honda à la fin des années 50 et au début des années 60, avant que la société ne marque son empreinte d'un demi-siècle ».
« Aujourd'hui, les motocyclettes Honda comptent parmi les véhicules les plus utilisées et les plus vendus au Canada et nous continuons à en faire la promotion auprès des générations futures avec des programmes comme le Honda Junior Red Rider, où 30 000 enfants de 6 à 12 ans ont profité du plaisir que peuvent offrir les deux roues.
Au cours de nos 50 années au Canada, Honda s'est engagé à investir dans ce pays en redonnant au suivant et en bâtissant des communautés. ».
Réservez vos billets pour le quatorzième banquet annuel d'intronisation et réunion du Temple de la Renommée de la Moto du Canada au www.canmoto.ca.
Bar et Hedy Hodgson ont fondé la Fondation du Musée canadien du patrimoine international de la moto en 1999 et lorsque Dave Lloyd leur a présenté l'idée d'un Temple de la renommée de la moto, ils ont offert la Fondation au public. En 2006, le Temple de la renommée de la moto du Canada a été créé pour préserver et promouvoir l'histoire de la motocyclette au profit de la communauté motocycliste et du public. Depuis, plus de 130 motocyclistes et organisations distinguées ont été intronisés au Temple de la Renommée. Le Temple de la Renommée de la Moto du Canada est une association sans but lucratif dont le statut d'organisme de bienfaisance est régi par un conseil indépendant de directeurs bénévoles à travers le Canada.
Pour obtenir des renseignements sur les anciens intronisés, les collections historiques de motocyclettes, le parrainage d'événements et les dons déductibles d'impôt, visitez le www.canmoto.ca