Len Fitch to be Honoured at Fourteenth Annual Canadian Motorcycle Hall of Fame Induction Banquet and Reunion
Toronto ON – The Canadian Motorcycle Hall of Fame is very pleased to announce the Class of 2019.  The first of the inductees to be honoured at the Annual Canadian Motorcycle Hall of Fame Induction Banquet and Reunion, is Len Fitch.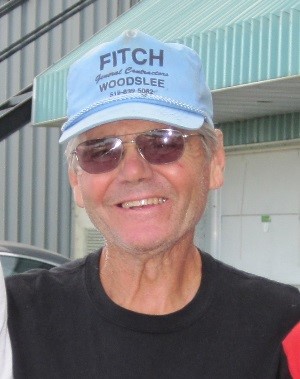 It gives me great pride and pleasure to welcome Len Fitch to the 2019 Class of Inductees, says Paul Germain, Chairman. Len has been active as both a competitor and contributor and shown passion and skills as well as sacrificed to make a positive impact on the world of motorcycling and will now receive the respect and recognition he so rightly deserves in the Hall of Fame. All the directors, contributors and volunteers of the CMHoF as well as myself, join together in welcoming Len to the Class of 2019. Congratulations.
Len has been involved in motorcycle racing since the day he was born. He started out racing on a Suzuki Hustler at local tracks around Windsor as well as Harewood Acres but then left to compete in the USA. Len competed as a privateer from 1971 to 1976 including six years at Daytona. Len retired from racing but soon joined the Vintage Road Racing Association (VRRA) and continued racing as an amateur. He competed on 125, 250, and 350cc GP Yamaha with consistent wins but retired in 2010 after a life-threatening crash in turn two at Mosport.
During his time with the VRRA, Len has promoted Canadian road racing in so many ways. He has always been an active volunteer with the club. He has served on the tech committee providing insight and information for refining the VRRA rulebook.  He has spent hours in the pits checking bikes for safe condition before they go on track. However, there is another area of promotion where Len's efforts are nothing short of amazing. Since his retirement, Len has selflessly sponsored other riders on his own motorcycles at entirely his own cost. On any given race weekend, Len will have three or four different riders on his machinery. He does all the preparation and tuning and the racers basically just show up and ride. To date, he has sponsored 25 riders including an entire season for Stacey Nesbitt in her professional career. Although Len is well into his 70's, he spends a lot of time on his back or knees wrenching on his bikes.
Len Fitch was the difference maker throughout a year of planning for the 50th anniversary of the 1967 Canadian Grand Prix held at the VRRA Vintage Festival in 2017. Along with Don Gosen and Domenic Aubrey, they worked tirelessly to obtain sponsors and put together the biggest event in VRRA history.
Tickets for the 14th Annual Canadian Motorcycle Hall of Fame Induction Banquet and Reunion are available here.
---
LES LÉGENDES ET LES CHAMPIONS DE LA MOTO SERONT HONORÉS AU QUATORZIÈME BANQUET ET RÉUNION DU TEMPLE DE LA RENOMMÉE DE LA MOTO DU CANADA
Toronto ON – July 20, 2019 – Le Temple de la Renommée de la Moto du Canada est très heureux d'annoncer l'intronisation de la promotion 2019. Len Fitch est le premier des intronisés à être honoré lors du banquet et de la réunion annuelle du Temple de la renommée de la moto au Canada.
« C'est avec une grande fierté et un grand plaisir pour moi que d'accueillir Len Fitch au sein de la classe des intronisés de 2019 » a déclaré Paul Germain, président du conseil. « Len a été actif à la fois en tant que concurrent et contributeur. Il a fait preuve de passion et de compétences et s'est sacrifié pour avoir un impact positif sur le monde de la moto. Il recevra désormais le respect et la reconnaissance qu'il mérite à juste titre au Temple de la renommée. Tous les directeurs, contributeurs et bénévoles de la CMHO, ainsi que moi-même, nous souhaitons la bienvenue à Len dans la promotion 2019. Félicitations !
Len est impliqué dans les courses de moto depuis son plus jeune âge. Il a commencé à courir sur une Suzuki Hustler sur des pistes locales autour de Windsor ainsi qu'à Harewood Acres, mais il est parti ensuite pour concourir aux États-Unis. Len a couru comme privé de 1971 à 1976, dont six ans à Daytona. Len a pris sa retraite de la course, mais a rapidement rejoint la Vintage Road Racing Association (VRRA) et a continué à courir comme amateur. Il a piloté sur les 125, 250 et 350cc Yamaha GP, mais a pris sa retraite en 2010 après un accident avec un décès au tour deux à Mosport.
Pendant son séjour à la VRRA, Len a fait la promotion de la course sur route canadienne de nombreuses façons. Il a toujours été un bénévole actif au sein du club. Il a siégé au comité technique en fournissant des idées et des informations pour affiner le livre de règles de la VRRA. Il a passé des heures dans les stands à vérifier l'état sécuritaire des motos avant leur départ en piste. Cependant, il existe un autre domaine de promotion dans lequel les efforts de Len sont absolument étonnants. 
Depuis qu'il a pris sa retraite, Len a parrainé de façon désintéressée d'autres coureurs avec ses propres motos, à ses propres frais. Chaque week-end de course, Len accueille trois ou quatre coureurs différents sur ses machines. Il fait toute la préparation et le réglage, les coureurs ont juste à se présenter et rouler. À ce jour, il a parrainé 25 coureurs, dont une saison entière pour Stacey Nesbitt pendant sa carrière professionnelle. Bien que Len ait 70 ans, il passe beaucoup de temps agenouillé ou couché sous les motos pour les préparer. 
Len Fitch a fait la différence tout au long de l'année de planification du 50e anniversaire du Grand Prix du Canada de 1967 tenu au VRRA Vintage Festival en 2017. Avec Don Gosen et Dominic Aubrey, ils ont travaillé sans relâche pour obtenir des sponsors et organiser le plus grand événement dans l'histoire de la VRRA.
Les billets pour le quatorzième banquet annuel d'intronisation et réunion du Temple de la Renommée de la Moto du Canada sont disponibles au www.canmoto.ca.
Bar et Hedy Hodgson ont fondé la Fondation du Musée canadien du patrimoine international de la moto en 1999 et lorsque Dave Lloyd leur a présenté l'idée d'un Temple de la renommée de la moto, ils ont offert la Fondation au public. En 2006, le Temple de la renommée de la moto du Canada a été créé pour préserver et promouvoir l'histoire de la motocyclette au profit de la communauté motocycliste et du public. Depuis, plus de 130 motocyclistes et organisations distinguées ont été intronisés au Temple de la Renommée. Le Temple de la Renommée de la Moto du Canada est une association sans but lucratif dont le statut d'organisme de bienfaisance est régi par un conseil indépendant de directeurs bénévoles à travers le Canada.
Pour obtenir des renseignements sur les anciens intronisés, les collections historiques de motocyclettes, le parrainage d'événements et les dons déductibles d'impôt, visitez le www.canmoto.ca