Shanks Family to be inducted as Historical Inductees in Burnaby
MOTORCYCLING LEGENDS AND CHAMPIONS TO BE HONOURED AT THIRTEENTH ANNUAL CANADIAN MOTORCYCLE HALL OF FAME INDUCTION BANQUET AND REUNION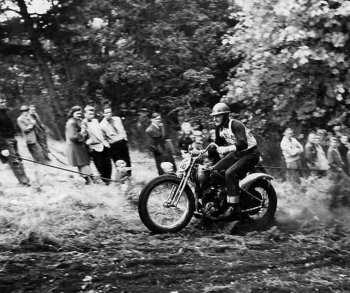 The Board of Directors of the Canadian Motorcycle Hall of Fame is pleased to announce the Historic Inductees of the Class of 2018.  The Shanks Family will be honoured at the 13th Annual Induction Banquet and Reunion which takes place November 17th, 2018 at the Delta Hotels Burnaby Conference Centre in Burnaby B. C.
The Shanks family was instrumental in laying a solid foundation for motorcycling in Victoria, B.C. and left an unforgettable legacy, a love of the sport and the ability to make things happen and inspire others to achieve their goals.
Brooklands speedway opened in 1907 and Shanks Motor Garage was nearby. Richard "Pop" Shanks got to know all the manufacturers and drivers. Reluctantly, for health reasons, Pop gave up his garage and racing club memberships and immigrated to Canada in 1912 with his family – sons Bob and Reg and daughter, Mollie. A year later, he opened up Brooklands Sales and Service and Pop soon became active in the motorcycling community and the Victoria MC Club and the shop became the gathering place for motorcyclists and the centre of the Club's social life. Pop established Bob in his own business, a block away, selling Indian motorcycles. Indian produced their last motorcycle in 1953 and in 1955 Bob opened up Shanks Saddlery, evidence of his love for horses and his equestrian skills. The Brooklands shop moved to 800 Block Fort Street and in 1926, Reg began working full time at the shop. Motorcycles became his business and his pleasure.
The Shanks all competed successfully, especially Reg and devoted much time to the continued development of the VMC. The Shanks had a deep love for the sport and had the ability to make things happen. Bob and Reg were married but had no children – the club became their family. They provided support and encouragement as well as guidance and maintained the highest moral standards for themselves and the club. They were loved by many and will not be forgotten.
The Chair of the Canadian Motorcycle Hall of Fame Board and all the Directors, are pleased and honoured to include the Shanks Family in the Class of 2018.