In 1989, Al Dyck pulled off the "Triple Crown," only rider in Canadian history, besides Ross Pederson to win 125, 250 and 500cc National Championship titles in one year
MOTORCYCLING LEGENDS AND CHAMPIONS TO BE HONOURED AT THIRTEENTH ANNUAL CANADIAN MOTORCYCLE HALL OF FAME INDUCTION BANQUET AND REUNION
The Chair of the Canadian Motorcycle Hall of Fame Board and all the Directors, are pleased to announce the sixth member of the Class of 2018. Al Dyck will be honoured at the 13th Annual Induction Banquet and Reunion which takes place November 17th at the Delta Hotels Burnaby Conference Centre in Burnaby.
"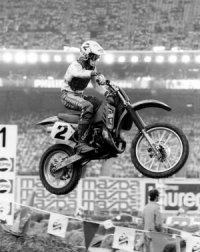 Too Trick" Al Dyck started riding dirt bikes in 1977, and in 1979 at the age of 15 he started his first year of racing. He followed in the footsteps of other great BC riders including Bill Mclean, Terry Hofoss, Larry Mckenzie and Bob Levy, to name a few. In that first year Al won the BC and Canadian National Championships in the 80cc class in Aldergrove, BC.
Quickly, Al moved through the ranks and by the end of the second year of racing was in the Expert class. He won many provincial titles and in 1986, won all three BC and Manitoba Championships. He capped off the year by becoming one of the few Canadians to win the prestigious Montreal Supercross.
Al competed in three Motocross Des Nations 1986, 88 and 89 where team Canada finished top 10 in two of those years.
Al rode during the years of Ross Pederson's dominance but in 1988, won the National Championship in the 125 class and also received the most points in all classes combined. Again, he won all 3 Provincial titles in BC and Manitoba. In 1988, Al won the CMA White Memorial Trophy (best performance by a Canadian Rider in all disciplines). His absolute best year came in 1989, when he pulled off the "Triple Crown" making him the only rider in Canadian history, besides Ross Pederson, to win the 125, 250 and 500cc National Championship titles in one year.
He was one of a few Canadian Pros to travel to the US finishing in the top 20 in the outdoor Nationals and making most Main events in Supercross. He won some California winter races with the best riders in the world even winning a championship in California in the early 90s.
For information about past inductees, event sponsorship, Roll of Honour, tax-deductible donations as well as Tickets for the 13th Annual Induction Banquet and Reunion, visit the web site at -   www.canmoto.ca,