The Canadian Motorcycle Hall of Fame is pleased to announce the 2018 Bar & Hedy Hodgson Award to be presented to Peter Gagan
MOTORCYCLING LEGENDS AND CHAMPIONS TO BE HONOURED AT THIRTEENTH ANNUAL CANADIAN MOTORCYCLE HALL OF FAME INDUCTION BANQUET AND REUNION
The Board of Directors of the Canadian Motorcycle Hall of Fame is pleased to announce the recipient of the Bar & Hedy Hodgson Award. Pete Gagan will be presented with the award at the 13th Annual Induction Banquet and Reunion which takes place November 17th, 2018 at the Delta Hotels Burnaby Conference Centre in Burnaby B. C
While a keen admirer of the world pioneers in motorcycling history, Pete Gagan's lifelong trail of accomplishments makes him a current-day pioneer himself. Pete has fostered a legacy of spreading his enthusiasm for historic machines across Canada and around the world.
Starting in Ontario, where in 1968 he was the instigator of what grew to become the Canadian Vintage Motorcycle Group, Pete's working life took him west in steps that included Sudbury, Ont., Calgary and Lethbridge, Alberta and finally Vancouver. In each locale his infectious enthusiasm helped raise awareness of the pleasures of old bikes and the camaraderie shared by their owners.
His mentors in the early days included Charlie Emmans, who had ridden all the London to Brighton Pioneer Runs in England for pre-1915 machines before emigrating to Canada. Another was Bert McKie. They were among the friends Pete included in a mailed invitation to an informal meeting at his home in the fall of 1968. About a dozen showed up and today the CVMG numbers 2,700 members.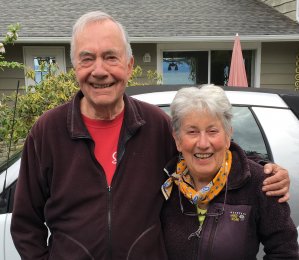 Pete moved westward and the club grew without his direct participation, but he also had long-standing links with the Antique Motorcycle Club of America which he joined in 1959. Pete was a frequent visitor to West Coast AMCA meets. He became a familiar face with AMCA and by the late 1990s was president of the 12,000 member organization, a position he held for almost six years. He served on the board of three U.S. motorcycle museums, was a curator of the Guggenheim Museum Art of the Motorcycle display and in 2007 helped establish the Antique Motorcycle Foundation.
Pete was also an avid participant in the historic road races organized by the Westwood Motorcycle Racing Club. He collected a number of interesting race machines and generously loaned them out to friends and guests he invited to the annual races before the track near Coquitlam, B.C., closed in 1990. He was the first and only entrant to race a Scott Flying Squirrel at Daytona and he produced and starred in an entertaining video series on YouTube called Pete's Garage.
The Chair of the Canadian Motorcycle Hall of Fame Board and all the Directors, are pleased and honoured to present the Bar & Hedy Hodgson Award to Pete Gagan.