Dave Rhodes was the first to loop the new TY250 over backwards
MOTORCYCLING LEGENDS AND CHAMPIONS TO BE HONOURED AT THIRTEENTH ANNUAL CANADIAN MOTORCYCLE HALL OF FAME INDUCTION BANQUET AND REUNION
The Board of Directors of the Canadian Motorcycle Hall of Fame is pleased to announce the fifth member of the Class of 2018. Dave Rhodes will be honoured at the 13th Annual Induction Banquet and Reunion which takes place November 17th at the Delta Hotels Burnaby Conference Centre in Burnaby.
Dave got the bike-bug early, just 15 years old and had become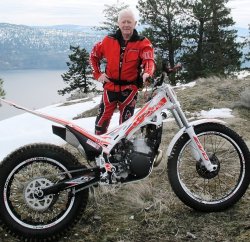 a keen trials enthusiast and accomplished rider. In Calgary, he discovered a different situation: Walt Healy Motorcycles and the Calgary Motorcycle Club. Healys had long been an Indian icon and the Calgary Motorcycle Club dabbled in road rides, hill climbs and scrambles.
The DT1 changed dirt bike world, Walt Healy became a prolific Yamaha dealer and Dave Rhodes was to take the Calgary Motorcycle Club in a new direction. Trials was now the real game and year-round events appeared on the calendar. Not only did Dave organize and lay out events, he was a keen competitor topping the Expert Class often.
Dave became sales rep for Yamaha across Western Canada. This coincided with intro of the Yamaha TY250 Trials.  Dave got the first one out of the crate and became the first to loop a new TY over backwards. Yamaha corporate executives were highly impressed with Dave Rhodes writing $100,000 plus orders on napkins in the back corner of Cafés.
Dave left Airdrie, Alberta in 1981 for the sunny Okanogan and Vernon, BC. Dave left Yamaha in 1984. He partnered a retail dealership first in Vernon and then In Kelowna - OUTLaw Accessories.
The Chair of the Canadian Motorcycle Hall of Fame Board and all the Directors, are pleased and honoured to include Dave Rhodes in the Class of 2018.