Steve Crevier is the most successful racer from the legendary mid-1980s British Columbia scene
MOTORCYCLING LEGENDS AND CHAMPIONS TO BE HONOURED AT THIRTEENTH ANNUAL CANADIAN MOTORCYCLE HALL OF FAME INDUCTION BANQUET AND REUNION
The Board of Directors of the Canadian Motorcycle Hall of Fame is pleased to announce the final member of the Class of 2018. Steve Crevier will be honoured at the 13th Annual Induction Banquet and Reunion which takes place November 17th at the Delta Hotels Burnaby Conference Centre in Burnaby.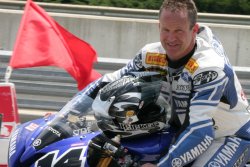 Steve Crevier is the most successful racer from the legendary mid-1980s British Columbia scene, his career launched from the "mountain high" Westwood venue outside Vancouver at the height of racing's popularity on the "left coast." Born in Montreal, Crevier started off moto crossing in B.C. and soon cut his pavement teeth on Yamaha's famed two stroke twin RZ350, earning the nick name "Squid Kid" while still a front-running teenager.
As well as enjoying a long-lasting and very successful career, Crevier is also perhaps the most flamboyant and outspoken racer of his era, impressive given that Crevier rose to road race fame at the same time as popular Hall of Famers, Miguel Duhamel and Jon Cornwell.
Crevier turned Pro in 1985, at the same time as Yamaha's potent new five-valve FZ750 arrived in dealerships, including his long-time supporter Pacific Yamaha.  The next year, Crevier got an ex-Rueben McMurter FZ750 Superbike, and stunned the racing scene by defeating National star Michel Mercier at Sanair International in Quebec in Crevier's first appearance at that track.
For the next two years, Crevier competed in Canada and the U.S., in Superbike, SuperSport and 250cc Grand Prix class Yamaha equipment.  In 1989, Crevier lead Yamaha Canada's program with the new OW-01 "homologation special" Superbike, new Production class FZR600, as well as a Team Ciampini Aprilia 250cc Grand Prix machine.
1989 was Crevier's breakthrough season with tuner Rick Hobbs, sweeping all three of the top classes in the Motoplan-Castrol Canadian National Championship.  Crevier was also top Canuk at the Mosport World Superbike round, earning big financially from his dominant campaign as well as scoring a prize car! 
The Chair of the Canadian Motorcycle Hall of Fame Board and all the Directors, are pleased and honoured to include Steve Crevier in the Class of 2018.
For information about past inductees, event sponsorship, Roll of Honour, tax-deductible donations as well as Tickets for the 13th Annual Induction Banquet and Reunion, visit the web site at -   www.canmoto.ca,