Wally Klammer's work to promote dirt biking all over BC was recognized by BC Motorcycle Federation
MOTORCYCLING LEGENDS AND CHAMPIONS TO BE HONOURED AT THIRTEENTH ANNUAL CANADIAN MOTORCYCLE HALL OF FAME INDUCTION BANQUET AND REUNION
The Chair of the Canadian Motorcycle Hall of Fame Board and all the Directors, are pleased and honoured to include Wally Klammer in the Class of 2018.
Wally Klammer is a local legend and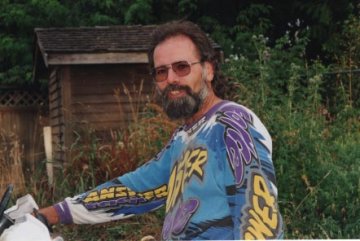 motorcycling pioneer on BC's West coast. He has been a supporter and ambassador for the sport of motorcycling for more years than most riders can remember. Wally is a true "Canadian Champion" to all who knew or have met him. His dedication and contribution to the sport of motorcycling is unparalleled and impossible to relate in a short space.
It started in 1962, when as a shy high school student, he would watch the tough guys with their hot rods and motorcycles. One of them would do these amazing block-long wheelies on his Triumph, all daring and skill. Wally went out and bought a BSA and a black leather jacket.
By 1974, he was getting tired of having his driver's licence always on the edge of suspension. He was a member of the Greater Vancouver Motorcycle Club and having seen a few off-road events, figured the dirt was a better place to ride. He traded the Triumph chopper for a faded red Bultaco and thus began 33 years of amateur off-road competition.
Wally put on his first organized event, the GVMC's Spring Enduro, in 1978 and continued to help organize one or two events every year. Securing land access was an even more difficult task, one he took to heart. His work with government officials, landowners and other user groups to promote dirt biking all over BC was recognized in 1985 with a certificate from the BC Motorcycle Federation.
Wally continued to promote the sport through his journalism and books. The enthusiasm for riding, the off-beat humour and the tales of wild adventure would become the hallmarks of his writing. In 1977, Wally released Dirt Bike Chronicles, a collection of his best articles with 3 added short stories. The book became a regional classic and still sells at bike shows and through Amazon. Encouraged, he followed up with 3 more novels based on a fictional motorcycle club.
Wally passed away in 2014.